Queer Spec is pleased to announce the schedule for Decoded Pride Issue #3! This story-a-day anthology of speculative queer fiction and comics by queer and trans creators is back and ready to celebrate all month long with stories that will entertain and delight–all while showing the power of queer and trans liberation.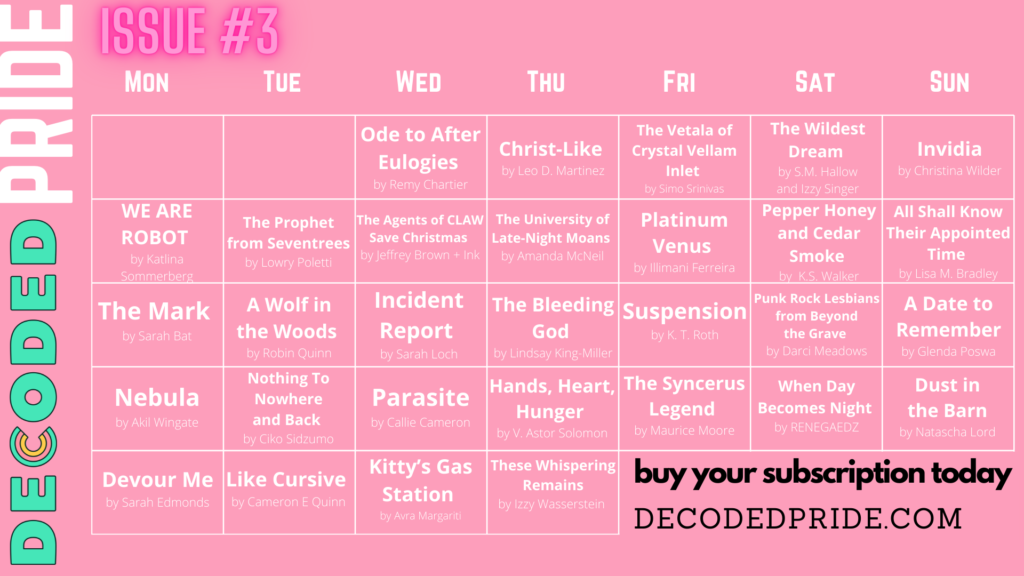 "Decoded Pride creates a space where queer and trans creators–comic artists and writers, short story writers, editors, designers–can come together and tell the stories we want to tell," says editor S.E. Fleenor. "We support our creators to explore the bounds of queer and trans identities, to find truth and heartbreak, to make us laugh and cry, to be themselves exactly as they are. It's rare to have a community like this built around an anthology and it's an honor for each and every one of us on the editorial team."
Subscriptions to Issue #3 are $14.99–less than fifty cents per story! All creators are compensated for their work; subscriptions include PDF and eBook formats after the June 2022 series concludes.
You can support our creators and this independent queer project by buying a subscription to Decoded Issue #3 today. Just click that link to start your purchase! And while you're at it, make sure to pick up Issues #1 and #2!
If you're not quite ready to make a purchase yet, learn more about Decoded and our story.
Download an e-reader friendly schedule:
All thirty stories and comics are listed below, in the order they will be published.
June 1 │ Ode to After Eulogies by Remy Chartier
June 2 │ Christ-Like by Leo D. Martinez
June 3 │ The Vetala of Crystal Vellam Inlet by Simo Srinivas
June 4 │ The Wildest Dream by S.M. Hallow and Izzy Singer
June 5 │ Invidia by Christina Wilder
June 6 │ WE ARE ROBOT by Katlina Sommerberg
June 7 │ The Prophet from Seventrees by Lowry Poletti
June 8 │ The Agents of CLAW Save Christmas by Jeffrey Brown + Ink
June 9 │ The University of Late-Night Moans by Amanda McNeil
June 10 │ Platinum Venus by Illimani Ferreira
June 11 │ Pepper Honey and Cedar Smoke by K.S. Walker
June 12 │ All Shall Know Their Appointed Time by Lisa M. Bradley
June 13 │ The Mark by Sarah Bat
June 14 │ A Wolf in the Woods by Robin Quinn
June 15 │ Incident Report by Sarah Loch
June 16 │ The Bleeding God by Lindsay King-Miller
June 17 │ Suspension by K. T. Roth
June 18 │ Punk Rock Lesbians from Beyond the Grave by Darci Meadows
June 19 │ A Date to Remember by Glenda Poswa
June 20 │ Nebula by Akil Wingate
June 21 │ Nothing To Nowhere and Back by Ciko Sidzumo
June 22 │ Parasite by Callie Cameron
June 23 │ Hands, Heart, Hunger by V. Astor Solomon
June 24 │ The Syncerus Legend by Maurice Moore
June 25 │ When Day Becomes Night by RENEGAEDZ
June 26 │ Dust in the Barn by Natascha Lord
June 27 │ Devour Me by Sarah Edmonds
June 28 │ Like Cursive by Cameron E Quinn
June 29 │ Kitty's Gas Station by Avra Margariti
June 30 │ These Whispering Remains by Izzy Wasserstein
Buy your subscription to Issue #3 today to support these incredible queer and trans creators telling the stories they want to tell!