Queer Spec is pleased to reveal another cover for Decoded Pride Issue #2!
"Nebula" by Sara Century with colors by Tana Thornock is a celestial, transcendent piece that captures the rapture and freedom of queerness as two queers with wings soar to great heights. Century's inks and concept pair with Thornock's colors to bring a vibrant world to life.
We are delighted to have a cover from editor Sara Century–Century has also been creating illustrations to accompany each story in both this year's and last year's issues. (Pick up a subscription to Decoded Pride Issue #1 (2020) while you're here!)
You can support Sara, Tana, all of our creators, and this independent queer project by buying a subscription to Decoded Issue #2 today, ensuring we can keep this amazing project going year after year.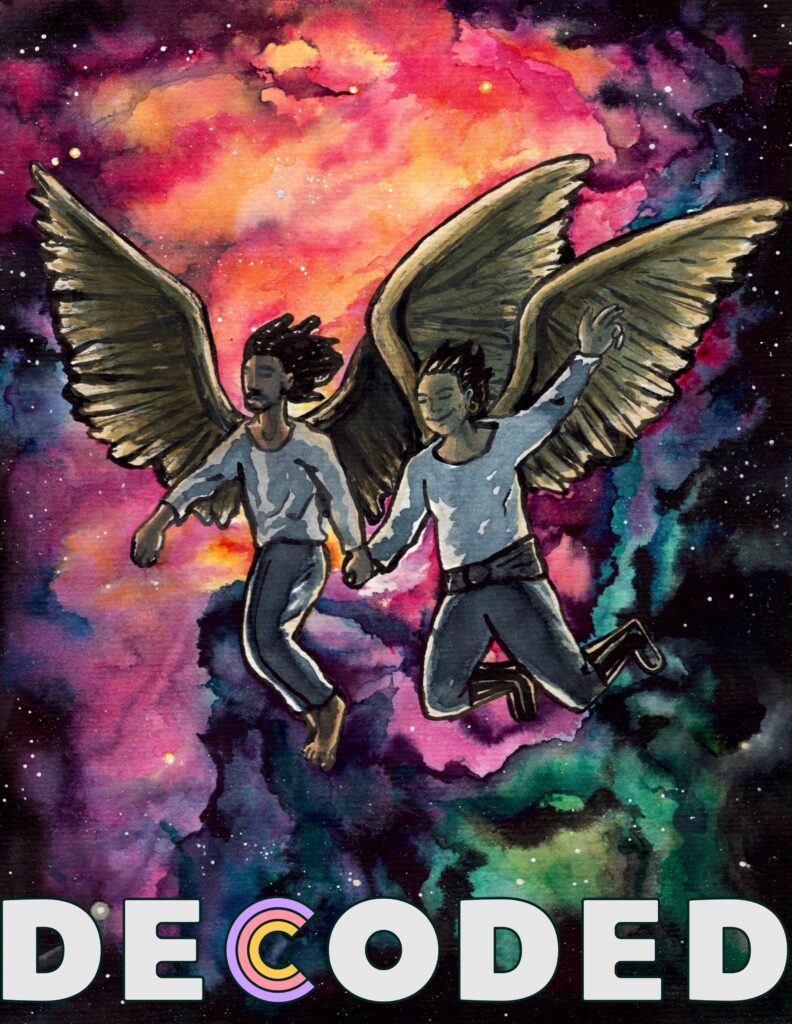 Sara Century (she/her) is an artist, writer, and filmmaker who is obsessed with most things. She is good at speaking in public, working for most hours of her waking life, and saying quotable things in casual conversation. Learn more about Sara at: saracentury.com or on Twitter @saracentury
Tana Thornock (she/her) is a fine artist currently working out of Colorado. Learn more about Tana and view her watercolor and comics art at: tanathornock.wordpress.com
Stories and comics start being released on June 1. You can buy a subscription any time and get access to all 30 stories as they come out–as well as a full-color PDF and eBook versions after Pride month ends!
Make sure to follow us on Twitter at: @queerspec or on Instagram at: @queer_spec to keep up with all the latest Decoded Pride news!