Decoded is a story-a-day anthology of queer science fiction, fantasy, and horror by queer authors. We feature speculative writing and comics released to subscribers every day of Pride month. If you want to get an email when submissions open and/or subscriptions become available, please sign up for our email list.
The best way to figure out what kind of stories we're interested in is to read Decoded Pride Issues #1 and #2. If you would like to buy a subscription to either issue you can do so by visiting the QueerSpec.com store. If you cannot afford a subscription, please be in touch.
Submissions for 2022 (Decoded Pride Issue #3) are now closed. The below guidelines are only left here for reference.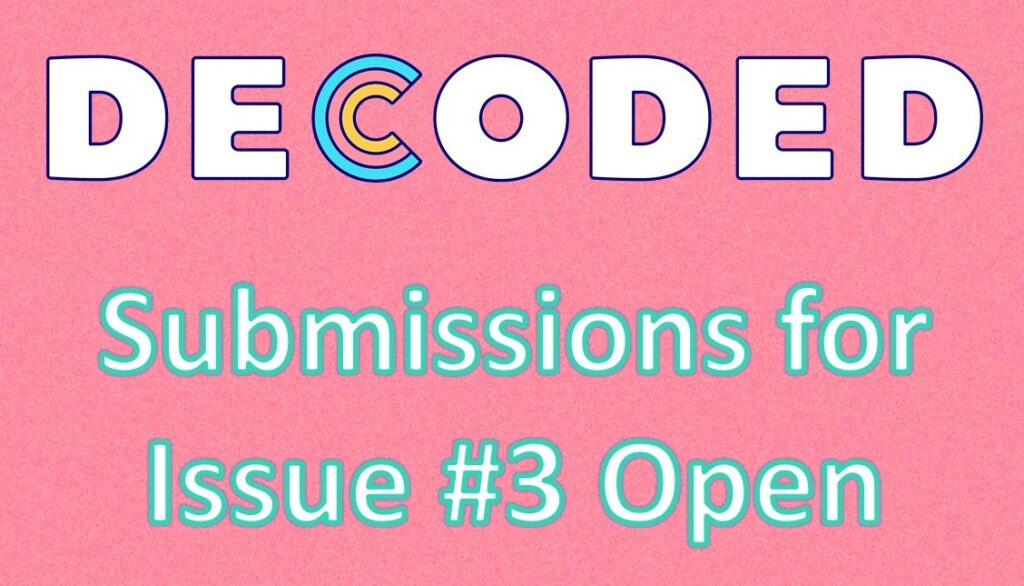 2022 Submission Guidelines – CLOSED
We are avid readers, and as such, we welcome a wide array of subject matter. Everything from experimental comics to thinly-veiled fanfiction to good old formulaic genre is right up our alley, so don't disqualify yourself – submit! Our only requirements are that you be a queer creator, that your work be speculative (science fiction, fantasy, horror, weird, and the undefinable, but undeniably speculative), and that you bring your very best work to the page. (More on all of that follows.)
The point of Decoded is to create a space for queer folks to build community as fiction writers and comic creators. We seek to center the voices of those most marginalized within queer communities. We want to facilitate works with queer themes, writers, and audiences.
If that sounds like you, read more below about logistics and how to submit your story.
Learn more about our editorial team.
Fees paid to authors
Flash short story (up to 1499 words) – $25
Short story (1500 to 3499 words) – $100
Long form (3500 – 7500-ish words) – $200
Comics – $75 (total, not per page; there is no limit for length, but keep in mind your whole comic will run in one day)
Fees will be paid via PayPal.
Submitting stories
We only publish science fiction, fantasy, horror, and the speculative in both comic and short story form. We are definitely open to weird fiction and hard-to-categorize genre fiction, but we do not publish literary fiction, commercial fiction, or anything else that lacks a speculative element.
Before you submit anything, read everything on this page. Only submissions that meet our requirements will be reviewed in their entirety–don't disqualify yourself!
Please email your submission with the subject "DECODED SUBMISSION 2022 – [story/comic title]" to editors@decodedpride.com between December 15, 2021 and midnight on February 14, 2022. Example: DECODED SUBMISSION 2022 – Starship Stuff
For short stories of any length, attach your submission in a word document or google doc with 12-point Times New Roman font, double-spaced with one inch margins (or something similar). If there is anything unique or experimental about how your story is formatted, please disclose that at the top of the document in bold lettering. For comics, email us the best way to view your work. Keep in mind:

Submissions must be all original content (unpublished elsewhere).
You may submit up to two pieces, but please be aware that more than one submission does not make your work more likely to be selected.
The hardest category of submissions is long form because we get the most submissions for that category and can accept the fewest pieces.
Simultaneous submission is fine, but tell us if it gets placed elsewhere.
Do not resubmit stories that have been rejected by us in the past without us explicitly requesting a rewritten version.
We are not multilingual, but we welcome multilingual work and will work with translations to assess the fit of any pieces submitted in multiple languages. We will accept stories from all over the world.

In your email, please tell us the word count of your story, the genre of your story, a bit about yourself, and a couple words about what "queer" means to you. Listen, we're not checking contributors' identities, but if you are cisgender, heterosexual, and/or not queer in any sense, please refrain from submitting to this call. There are infinite possibilities for your work to be published, edited, and praised by cishet editors. Let us do our thing.
Add two email addresses to your address book so you don't miss emails from us: editors@decodedpride.com and team@queerspec.com
There is no fee for entry, but if you love this anthology idea and want to see it thrive, you can make a one-time contribution here.
Please sign up for our email list if you want to get emails about Decoded and know when our call for submissions is live.
What we're particularly interested in reading
We would love to see more flash fiction, particularly flash fiction that explores queerness and transness as magic/ancestral wisdom/earth power, etc.
We're excited to read shorter, one to two page comics! (Listen, you can go as long as you'd like, but we recognize that our pay for comics is currently pretty low. Our goal is to raise this rate for future issues.)
We would be downright ecstatic to read more horror fiction and comics. We particularly want to read anything that both terrifies and delights.
We're also very interested in scifi stories that are mind-bending.
We absolutely love humor.
And we also love to cry. Make us feel something.
Some important stuff we want you to read, so read it, okay?
We have no interest in reading anything racist, classist, xenophobic, homophobic, or transphobic. Can you have characters who deal with these issues? Absolutely. We just don't want to read gross and offensive writing about marginalized people.
We do not want to read any kind of cultural voyeurism.
Think about the words you use in your cover letter and in your story, particularly because we're a queer and feminist journal. If your cover letter says the use of "queer" is a slur? WYD?! If you call a woman a bitch in your short story (esp. if you're a male writer), WYD?????
Don't send us weird stuff where you describe another person's genitals and link it to their race. We hate it. We won't publish it. And, we'll probably judge you.
Don't send us stories in which one character is grossly objectifying another character, especially in connection with their age or race. Sexuality is great, stereotypes are not.
We mean these things quite seriously. If you do any of the above, we will likely reject your work out of hand.
Other helpful notes
Pay attention to the submission guidelines and everything we've said on this page. SERIOUSLY.
Don't shit talk your work in your cover letter. If you can't say anything positive about your work, let it speak for itself.
If you make innocent mistakes, we're not going to hold it against you. (We have published some folks who said mean things about themselves in their cover letter.)
Resources
Writing is a delightful, but wild process! Here are some of the resources we enjoy using when we're writing:
Race Forward's Race Reporting Guide – Obviously this is geared toward reporting and nonfiction, but we think there are many useful concepts here!
Writing the Other – This great organization has many, many resources available from on-demand courses to their book, which cover a range of topics from best practices in writing fat characters to diverse narrative structures.
Nitty Gritty Publishing Details
This release will be distributed online and via eBook and PDF. It will be available to anyone for a small subscription fee. Contributors will all receive the full issue on the house, starting the first day they are released.
We claim first worldwide electronic rights (text and audio), first print rights (author must be willing to sign copies), and non-exclusive anthology rights.