by Amanda McNeil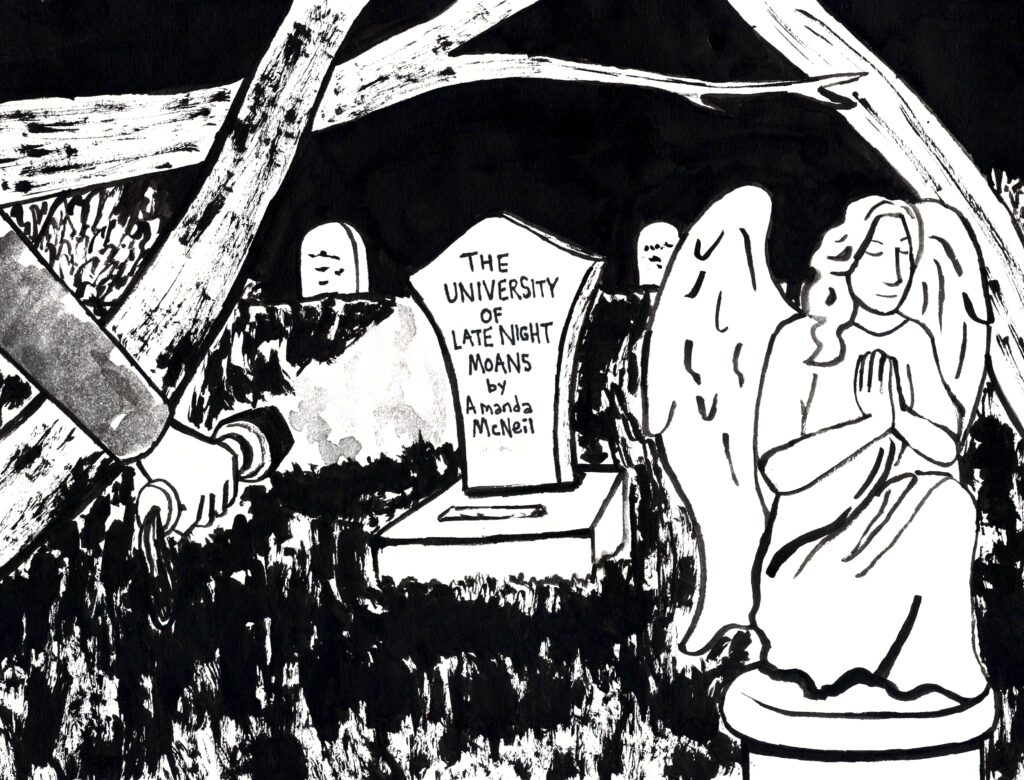 Content warning: brief mentions of systemic, religious, and familial homophobia, mentions of death
A mournful train whistle wound its way through the fall evening into Leonora's single dorm room. She paused in her studies, glancing up from her notebook and the pile of books sitting with her on her firm twin bed to listen. It was a nice change of pace from the other haunting noises that danced into her ears in the wee hours of the morning for the last week. When she selected this college, the proximity to the train was one of many reasons why. The cable TV and private room phones helped too. But a factor she did not notice at the time and wished she had was the old cemetery just across the train tracks. Of course, it didn't bother her until the dissonant moans began.
As the whistle faded, Leonora resumed her studies. She couldn't let the Class of 2000 T-shirt her dad already bought her be a lie. She had to graduate on time. With honors. Easier said than done. But what was college if not an opportunity to run on almost no sleep? She smiled as she took another sip of soda and ate a couple more pieces of fish gummy candy. One nice thing about this semester was she finally put her knowledge gleaned from two years of college to good use. Her junior year she managed to snag this single room, classes that started no earlier than noon, and the best hours in the cushy work-study job checking out books at the campus library from 8 p.m. to midnight, often getting some of the easier reading for her English major done as well. She gazed at the poster of Oxford University on her white cinder block wall. That was where she would do her master's. And then she would be on the road to becoming a tenured professor.
Everything was going great. Each night she would lock up the library at midnight on the dot, grab a snack from the university bodega, and then study in her room for a couple hours. The only problem was, for the last week, shortly after the train went by, she heard another noise. A distant moaning. No, not that type of moaning. The other students on her floor weren't so much the moaning type as the bed banging against the wall type. No, the moaning she heard started out low, like a distant bass floating across the tracks, vibrating her bones. When it escalated, it was to pain, not pleasure. At those moments, it felt almost as if someone else was in the room with her. Which was impossible. Obviously.
She stood up to find her Walkman CD player. She could at least block out the possibility of hearing anything tonight. But a knock sounded on her door. She looked through the peephole and saw a fisheye view of a waifish blond girl with a pixie haircut. She unlocked and opened the door. "Virginia? What are you doing here?"
Virginia leaned against the doorframe, looping her fingers through her belt loops. "I thought I could help you solve the little mystery you've been having."
Want to keep reading? This content is available to paid subscribers only. To get your Decoded Subscription, visit the QueerSpec.com store. If you've already purchased a subscription, please login.