by Dora Dee Rogers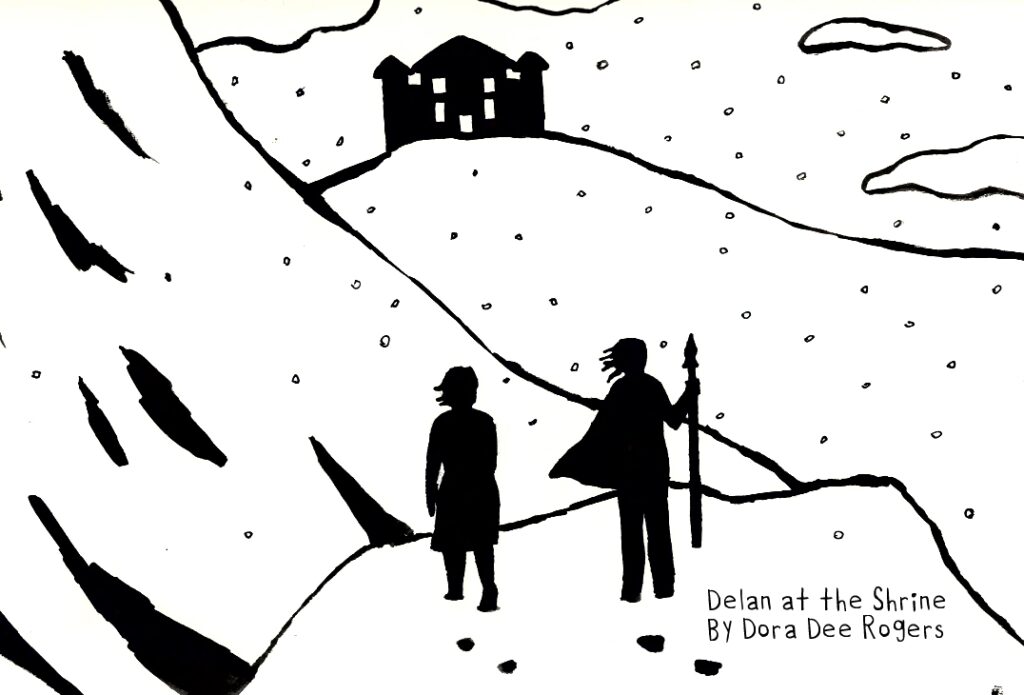 Editors' note: Author Dora Dee Rogers discusses her story and queer speculative art in Episode 3 of our limited-edition Decoded Pride Podcast.
At the end of their fourth day of climbing, Delan and Runa finally reached the shrine of the Maiden near the top of Mount Kubal. Runa, priestess of the Maiden, ran forward, stumbling through powdery snow in her thick wool coat. Delan, her hired bodyguard, leaned on her spear shaft and smiled. It was the end of a long journey, and Runa deserved some joy.
Runa laughed as she ran through the small wooden arch at the end of the trail they'd been following the last several days, Delan following. They had reached a flat rocky outcrop. The mountain rose up into the mist on Delan's left, and the outcrop terminated abruptly in a sheer cliff on her right.
Both structures of the shrine complex were pressed up against the mountain on Delan's left. Runa went immediately to the smaller of the two, which was almost completely buried in the snow, only the tip of a stone roof protruding. "This is the sanctuary," she cried happily. "Miracles have happened inside. The Maiden walked here!" Judging from the outline in the snow, it was a small building, a rectangle terminating against the mountain itself. Runa went to the end and started digging through the snow with her gloved hands. But Delan stopped her with a hand on her shoulder.
"We need to make camp before we lose the light," she said. She looked at the other building, which was bigger, made of wood, with a tall sloping roof that pressed against the mountain, like a large lean-to. "What's that?"
Runa admitted it had been a residence for priestesses and pilgrims, and reluctantly she accompanied Delan to examine it. There was still some work to clear the door, but the snow wasn't so deep, and they got in within a few minutes.
Want to keep reading? This content is available to paid subscribers only. To get your Decoded Subscription, visit the QueerSpec.com store. If you've already purchased a subscription, please login.