by Izzy Wasserstein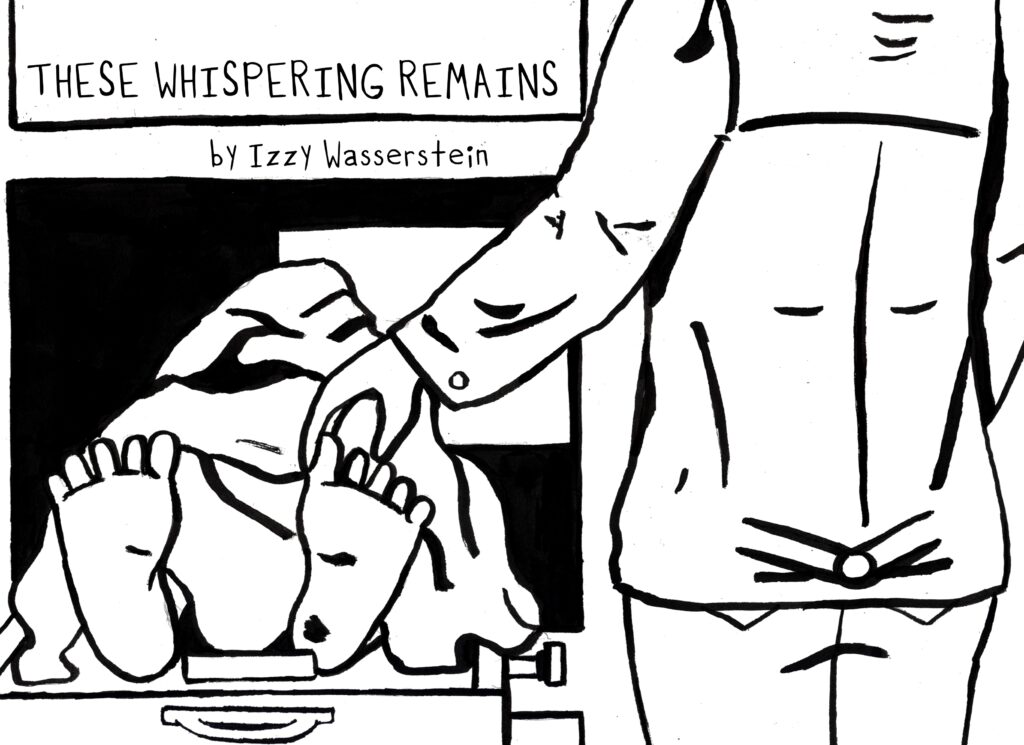 Content warning: violence, murder (including of marginalized people), bodies, illness and bodily fluids, and brief mentions of sexual assault
The only thing worse than going in is coming back out. This time, I manage not to scream when Jensen shakes me back to my body, but I do gasp loudly enough that I'm sure the asshole cop keeping an eye on us will have a good laugh at my expense later. Fuck him.
I pull myself up from the morgue table, from the fragments of bone that were once a young woman, then vomit bile and not much else into a trash can. I've long ago learned not to eat before communing with the dead. Jensen holds my hair back as I empty my stomach, and when I straighten, wiping my lips with the back of my sleeve, his brow is furrowed.
"Don't tell me," I say, but he does anyway.
"Worse than ever," he says, meaning the shaking, the sweating, the pained cries that come along with the ability to share the dead's experiences. Jensen calls communing my gift. If so, it's a cruel one.
"Doesn't matter," I say, hoping that's true. "You ready?"
He insists I take a seat first, then turns on the recorder: a separate unit, not his phone, because he's old-school like that. I tell him what I witnessed. A dock on a small lake, the water so bright I put my hand over my eyes despite my sunglasses. A woman in a bikini waves at me from the water, her brown skin gleaming in the late afternoon light. A twinge in my gut marks desire. Unrequited, my instincts scream. A baby in a crib, pink-faced, scowling. An avocado-green station wagon, the faux-leather on its seats cracking, a suitcase beside me, and the highway flying by, the engine light on. I'm running from something.
So many Jay Does are. Not all, by any means, but when you're a Doe and have been for some time, often no one with power is looking for you. Orphans, girls fleeing abusive homes, or kids who aged out of the foster system and ended up unhoused. Others are just so far from home, or lived lives on margins, lives most people studiously ignore. Unhomed people, braving cruelty and indifference; migrant workers, far from the families they left behind; Indigenous women, disappearing at alarming rates without much interest from the cops; Black trans women, who the authorities don't give a shit about.
Someone has to, and as far as I can tell I'm the only one with this power, the only one who can do something about it. Don't think about the cost, Dani, I've told myself while staring into a hundred motel mirrors.
Want to keep reading? This content is available to paid subscribers only. To get your Decoded Subscription, visit the QueerSpec.com store. If you've already purchased a subscription, please login.