by Gio E.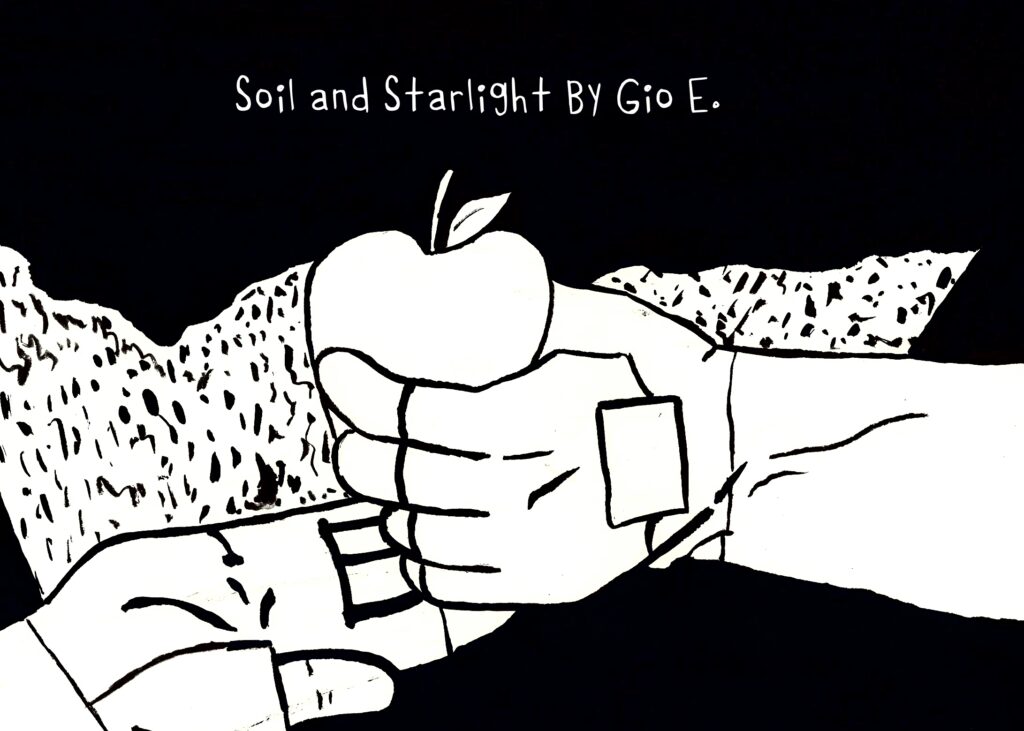 "Make a decision about the apple, Alice. Before we lose the starlight."
Those are the first words either of them have spoken in two days, or whatever counts as days on a moon that has been slammed 3,000 miles from the Earth's orbit, adrift in a flat universe. She knows Viv is right. Inertia is seducing them away from the nearest star. She knows the next pearls of starlight will be sparse. But what has knowledge ever done for either of them?
Viv takes over, gathering all the necessary growth supplies. The soil, the nutrients, the nails and hammer. She doesn't want to watch Viv do this, but there are only two places for Alice to be. Either this pigeon-shit gray landscape, or the wreck of their ship with the mummifying bodies inside. So here she will sit, and grind her teeth like a child. Bathing in the plasma heat of that star, that newly familiar sun. Listening to the low hum of the oxygen fans in her helmet. Trying, and failing, to keep her eyes off Viv, off the way her space suit shifts over her thighs, the way she dusts off her hands. Beautiful against the clouds of moon powder.
Viv finishes up. She nails the tray to the ground, pours in the pre-hydrated soil, and covers it all with the foot-high glass case.
This soil is modified so that it can grow mature trees and bushes within days. They used to have more, but most of that shit went floating in the cold grease of space. Finally, Viv sets the apple on top, glinting red with the starlight.
"Seems like you've decided for us," Alice says.
"Planting it is just smarter."
Want to keep reading? This content is available to paid subscribers only. To get your Decoded Subscription, visit the QueerSpec.com store. If you've already purchased a subscription, please login.