by K.T. Roth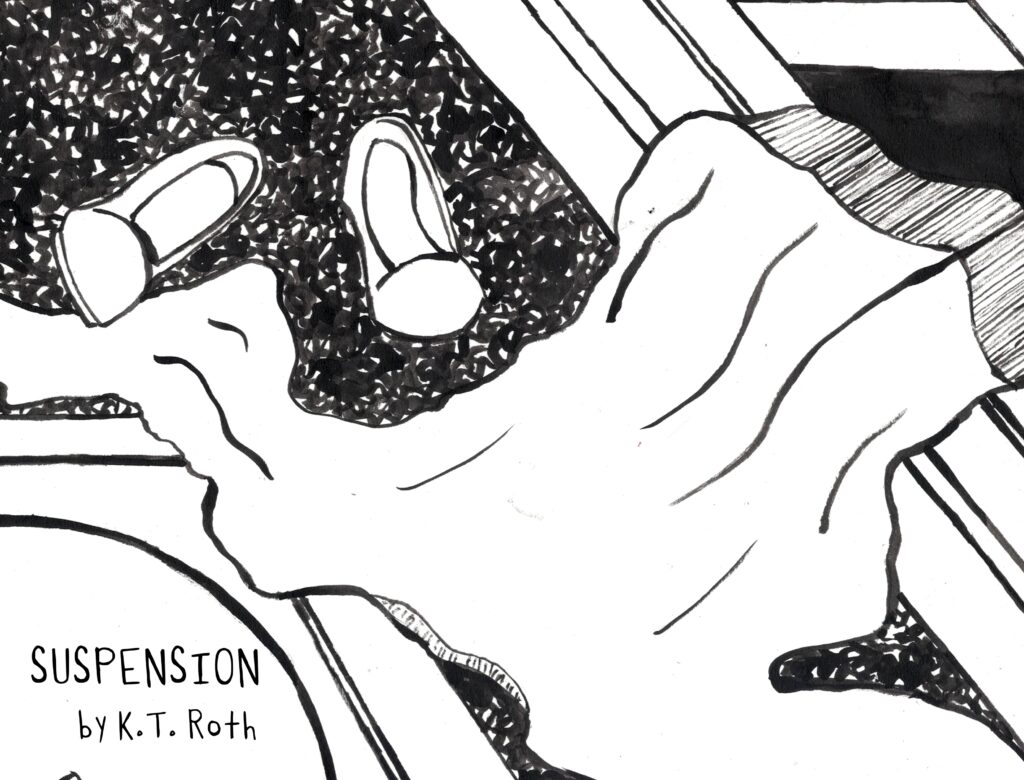 My sandpaper eyelids drag open and squint against the bright day. I look at my nightstand clock — the readout's dark. Must be a power outage. I palm-heel my retinal nerves, then stretch out long across the mattress, twisting to reach for my cell on the bedside table. No matter how many times I press my thumb to the button, it won't wake up. You and me both, phone.
I try rolling back into sleep but end up tossing about for another hour or two. The daylight feels stuck in place, slanted down at the same angle through my window blinds to the floor. The clock remains numberless, not even blinking 12:00 in a sign of renewed electricity. I grab my phone again. Nope, still dead.
I exhale and get out of bed, walking over to peek through the window. No one's on the street. The universe of Brooklyn is unsettlingly quiet. I rub my eyes and look up and down the empty block. That's when I realize I don't hear any birds chirping, which is weird, because my place is only a few doors down from the park.
The blinds fight me when I pull the cord, eventually raising in reluctant fits, but the window refuses to budge. I could have muscled it up a lifetime ago, but those days are long gone. I can't remember the last time I worked out. I move on autopilot and flip open my laptop, only to again encounter powerlessness. My hand aches to light up my phone.
Life has a sensation of disjointedness when I don't at least check the news.
No electricity or appliances whirring inside my apartment and not a drop of sound from the outside world. The air in my bedroom feels stale. A disquieting stone settles into my bowels. I snatch up jeans from the hamper and slip them on over booty short PJs. The tank top I slept in is fine; I don't bother with a bra or deodorant. I side-eye my face and hair in the mirror and shrug, then step into a pair of Chucks, slide a credit card into my back pocket, and grab my keys.
Both apartment door locks are as resistant to movement as the window was. I pace a couple frantic back-and-forths in my foyer, then throw everything into releasing the deadbolts, but the door itself ends up jammed too. My panic's mounting.
Want to keep reading? This content is available to paid subscribers only. To get your Decoded Subscription, visit the QueerSpec.com store. If you've already purchased a subscription, please login.