by Lisa M. Bradley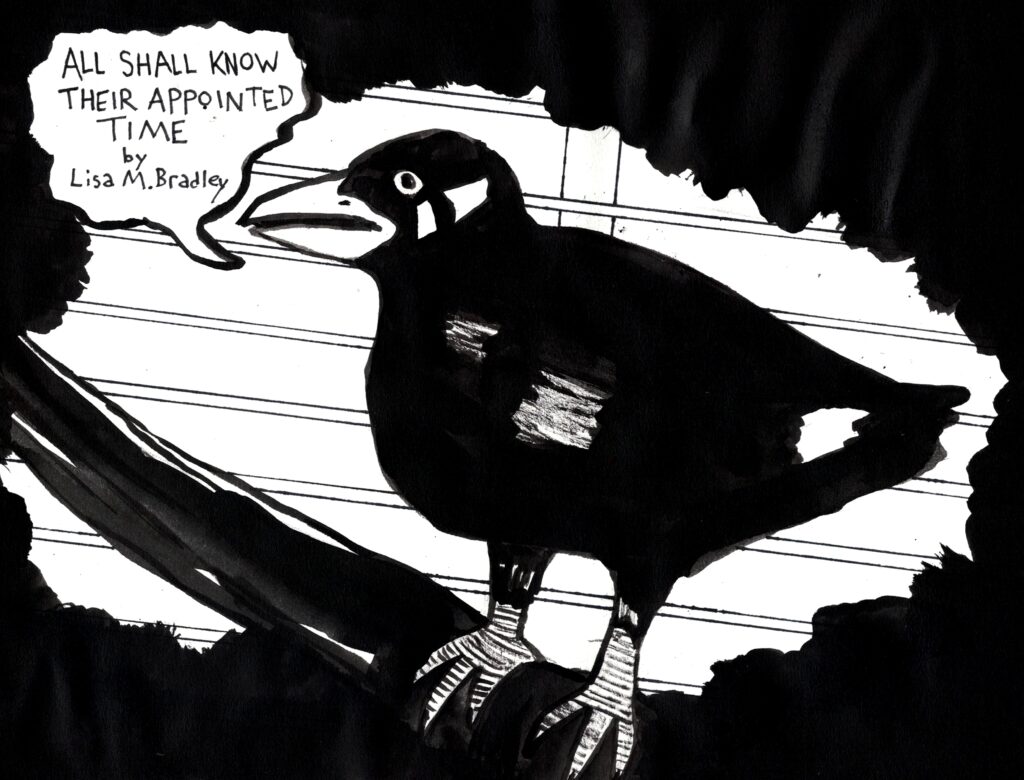 A lot of people's skin crawled when they entered Cricket Farm and Flour Mill, but not Luce's. After running the business with hir brother for five years, Luce's formication response was well-trained. Walking into a dark building that housed thousands of hopping, gnawing, spawning crickets no longer fazed hir.
Nor did the cacophony of chirps that echoed off the metal walls and concrete floors of the warehouse. Visiting schoolchildren clapped their hands over their ears and delivery folks often hollered to be heard, but Luce was serene as a beachcomber as ze unlocked the building after sunset and met the tidal wave of stridulation.
With one arm, ze held open the door and kept the curtain of vinyl flaps parted so ze could bring in the clean plastic tubs that had dried outside in the sun. The flaps kept small birds from flying in; sadly, and something Luce tried not to think about, large birds were no longer a problem. It was a hassle to haul the tubs inside while keeping the flaps from jamming the hydraulic door and, for a moment, Luce wished Rhodey, their night security, was on site. An extra set of hands would've been nice — and Rhodey's hands were extra nice, Luce thought, blushing — but on Thursdays Rhodey came in late so he could volunteer at his daughter's Lego League sessions. Ah well. Patience, my friend, Luce thought. With effort, ze managed to get the tubs inside without letting in any sparrows or any of the myriad other small creatures that would love to gorge themselves on crickets.
Luce elbowed the switch for the B lights, bringing the warehouse into moody dimness. Ze put the clean tubs in the production barn to be stocked with fresh peat moss for crickets to lay their eggs in. Then ze leaned into the office to hang up the delivery van's keys for tomorrow's driver. Next Luce headed to the dehydrators, nicknamed Flaca y Gordo, despite both machines being six-and-a-half feet tall and round like vintage alarm clocks, to check the digital readouts.
Because Luce was as a sailor inured to crashing waves, ze almost didn't notice when the crickets went quiet. It happened sometimes, usually when Edgar, their greenest forklift operator, ran the vehicle into a wall or post and made the whole building shake.
Some backbrain semaphore got Luce's attention, however, and then ze did notice the crickets were silent. Not all of them, of course. Some in the hatching room still scraped their files like Nero, but enough space grew between chirps that Luce noticed how quiet it was outside the building, too. Normally the spring peepers croaked so loudly, they sounded like frogs three times their size. Now it was as if someone had pressed the mute button.
Want to keep reading? This content is available to paid subscribers only. To get your Decoded Subscription, visit the QueerSpec.com store. If you've already purchased a subscription, please login.